Employee Pandemic Engagement Survey
From shifting to primarily remote delivery of all USask classes to adjusting to working from home, the pandemic has had a significant impact on USask faculty and staff. The Pandemic Engagement Survey is an opportunity for faculty and staff to provide feedback and share their experiences.
The Survey
The Employee Pandemic Engagement survey is a short pulse survey that is sent out to USask faculty and staff during the pandemic to collect feedback on the university's response to the pandemic and insights on how employees are managing remote teaching and working arrangements. McLean and Company administered the survey on behalf of USask and sent invites to 5,689 faculty and staff to participate in the survey between June 8 and June 24, 2021. In total 1,585 or 28% of all participants submitted a completed survey.
The Results
The feedback collected through the third Pandemic Engagement Survey remained consistent with the information submitted through the previous three pulse surveys. Faculty and staff were clear that a more detailed plan about the eventual return to campus was desired, so they could prepare for the potential changes or impact to their current workplace configuration. Employees remain supportive of the university's overall response to the pandemic and how the university has prioritized the health and safety of the members of the university community through the pandemic.

Consistent with previous survey feedback employees indicated a preference for the continuation or remote work in some capacity or the option of hybrid workspaces where the option of a combination of working remotely and on campus is available.

Overall Engagement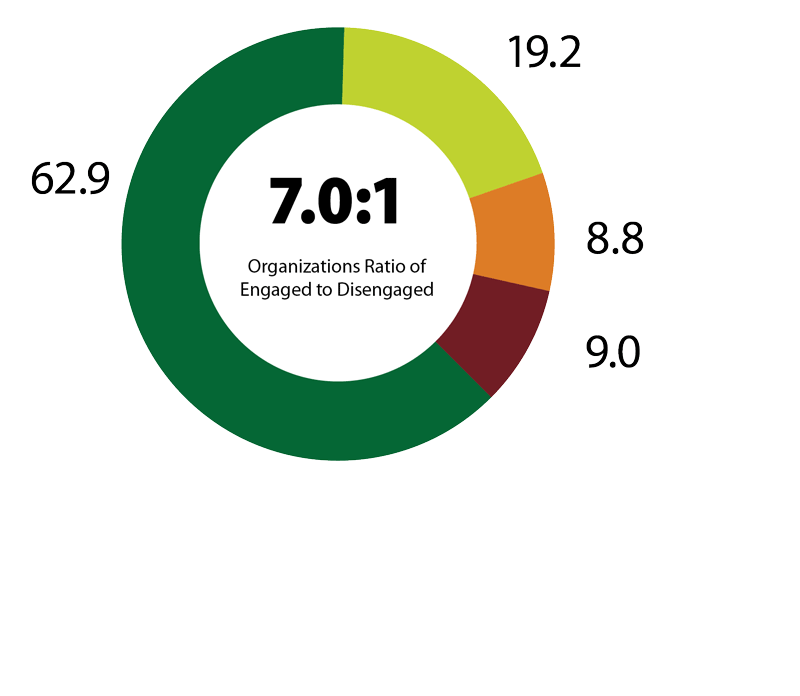 ENGAGED
Engaged employees consistently exceed expectations. They are energized and passionate about their work, leading them to exert discretionary effort to drive organizational performance.
ALMOST ENGAGED
Almost engaged employees sometimes exceed expectations and are generally passionate about their work. At times they exert discretionary effort to help achieve organizational goals.
INDIFFERENT
Indifferent employees are satisfied, comfortable, and generally able to meet minimum expectations. They see their work as "just a job", prioritizing their needs before organizational goals.
DISENGAGED
Disengaged employees usually fail to meet minimum expectations, putting in time rather than effort. They have little interest in their job and the organization and often display negative attitudes.
Compared to the survey data collected in the first and second Employee Pandemic Engagement Survey conducted over the past year, employee's overall engagement score remained consistent with 63% of employees categorized as Engaged, 19% Almost Engaged, 9% Indifferent, and 9% Disengaged.
SURVEY RESULTS
What has the university done well in response to the pandemic?
This is a summary of some of the common responses collected through the survey 
The university's initial response to promptly close before the provincial government came to a decision is appreciated with a smooth transition to working from home. The university's stance to not open aided in the lowering the number of cases.
The regular cadence of communication around COVID rules, updates were valued and timely.
People leaders have open, responsive, and supportive with regular check-ins. A two-way feedback sharing initiatives like open discussions, engagement surveys, newsletters and group have helped employees feel their voice is heard with an overall sense of supportiveness.
The university did a good job in timely pre-approving permits to work at labs etc.
The university's decision to transition back slowly into work has been widely regarded.
COVID restrictions, masking rules, supply of PPE and cleaning supplies, tracking, and acting on any COVID positive cases was done well.
Employees would like to have a hybrid model of work.
Returning to the Workplace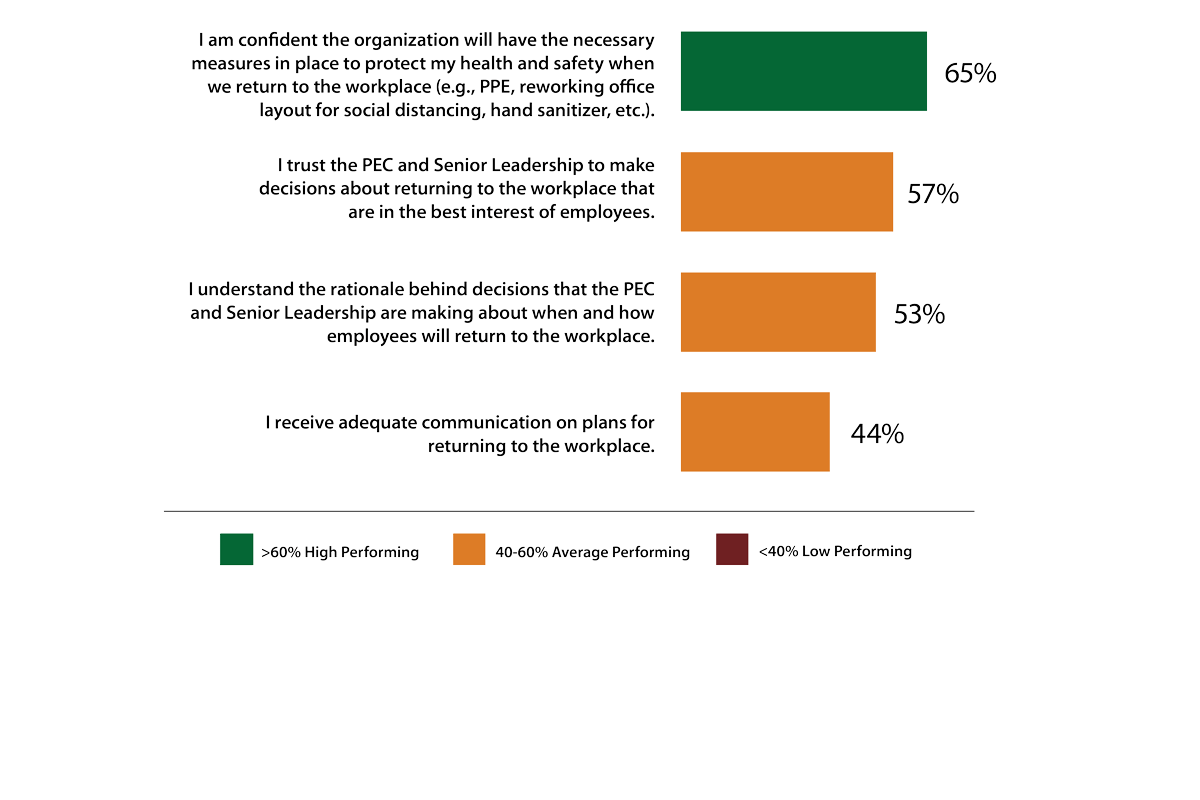 YOUR THOUGHTS
What can the university do to support you right now?
This is a summary of some of the common responses collected through the survey 
continue to allow working from home as much as possible
communicate more frequently particular as it pertains to reopening plans, financial impacts to the university, layoffs and restructuring
outline short/medium/long term impacts of Covid on the university
involve employees in decisions that affect their work (more involvement & transparency), use evidence-based approaches (such as surveys)
increase the mental health supports and better promote the availability of supports/resources for employees
address increased workloads and longer working days due to remote work and changing course delivery requirements
92%
of employees would like the flexibility to balance work done on campus and remotely
45%
of employees would prefer to split their time working between campus and remotely in half (2-3d/week)
19%
of employees would like to continue to work remotely full time
YOUR THOUGHTS
What support do you need from the organization in order to work comfortably and safely in the workplace? 
This is a summary of some of the common responses collected through the survey
ensure widespread vaccination and a sense that the pandemic is under control 
introduce procedures and policies regarding how outbreaks will be handled
continue to provide informational updates
outline protocols around:

PPE Requirements (Masks, Shields, other)
Phased return-to-work for different groups on campus
Physical distancing (offices, hallways, bathrooms, shared spaces, limiting movement on campus)
Class size and in-person meeting size limits
Enhanced Sanitation and cleaning (ie. hand sanitizer stations, no-touch washroom facilities etc.)
Allowing remote work or hybrid arrangements to continue (in some cases indefinitely)
Employee Resources
The survey responses highlighted areas where the university will continue to invest resources to improve the remote workspaces for faculty and staff. Please make sure to utilize the university services available to all employees and have conversations with your direct supervisor if you have questions or need additional support.
YOUR THOUGHTS
What are your biggest concerns about returning to the workplace?
This is a summary of some of the common responses collected through the survey
resuming on campus activity prematurely (before everyone/most have been vaccinated)
fear of campus-wide transmission/outbreak and the ability to limit potential outbreaks with so many people on campus 
not possible to truly enforce physical-distancing
knowing how or if workspaces will be changed
concern that others do not take necessary precautions and not knowing how health and safety protocols will be enforced
inadvertently exposing self and family members to illness
increased anxiety or additional mental health strain for those who feel unready to return onsite
juggling onsite work with sick dependents/children in school (who may need to be off for COVID related reasons)