Employee Pandemic Engagement Survey
From shifting to primarily remote delivery of all USask classes to adjusting to working from home, the pandemic has had a significant impact on USask faculty and staff. The Pandemic Engagement Survey was an opportunity for faculty and staff to provide feedback and share their experiences.
The Survey
McLean and Company administered the survey on behalf of USask and sent invites to 5,695 faculty and staff to participate in the survey between July 8 and 22, 2020. Close to 2,100 or 37% of all participants submitted a completed survey.
The short survey consisted of only 22 closed questions and 3 open-ended questions.
The Results
The feedback collected through the Pandemic Engagement Survey provided great insights into how faculty and staff are dealing with the changes brought on by the pandemic. Your responses helped inform decision-making relating to the continuation of remote working and the resources needed for you to safely and efficiently conduct your daily activities. A more detailed breakdown of the survey results are provided below, however, here are a few common threads that emerged through the feedback provided.
Faculty and staff believe the safety of members of the university community is a priority when it comes to decision making.
Employees mostly feel their People Leaders care about their well-being and have kept them well-informed about decisions that affect them.
There is a strong desire for more communication including the rationale for why certain decisions are being made.
A majority of faculty and staff do not feel safe returning to work on campus at this point.
Overall Engagement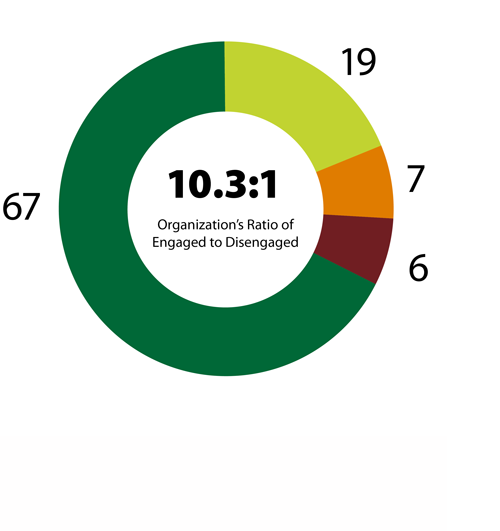 ENGAGED
Engaged employees consistently exceed expectations. They are energized and passionate about their work, leading them to exert discretionary effort to drive organizational performance.
ALMOST ENGAGED
Almost engaged employees sometimes exceed expectations and are generally passionate about their work. At times they exert discretionary effort to help achieve organizational goals.
INDIFFERENT
Indifferent employees are satisfied, comfortable, and generally able to meet minimum expectations. They see their work as "just a job", prioritizing their needs before organizational goals.
DISENGAGED
Disengaged employees usually fail to meet minimum expectations, putting in time rather than effort. They have little interest in their job and the organization and often display negative attitudes.
YOUR THOUGHTS
What has the institution done well in response to COVID-19?
This is a summary of some of the common responses collected through the survey

The decision to close the campus for the safety of all members of the university community
Making the safety of faculty, staff, and students a priority
Exceptional support for remote teaching, learning and working
A fast move to remote class delivery and decision for fall
Consistent USask COVID-19 update emails
Returning to the Workplace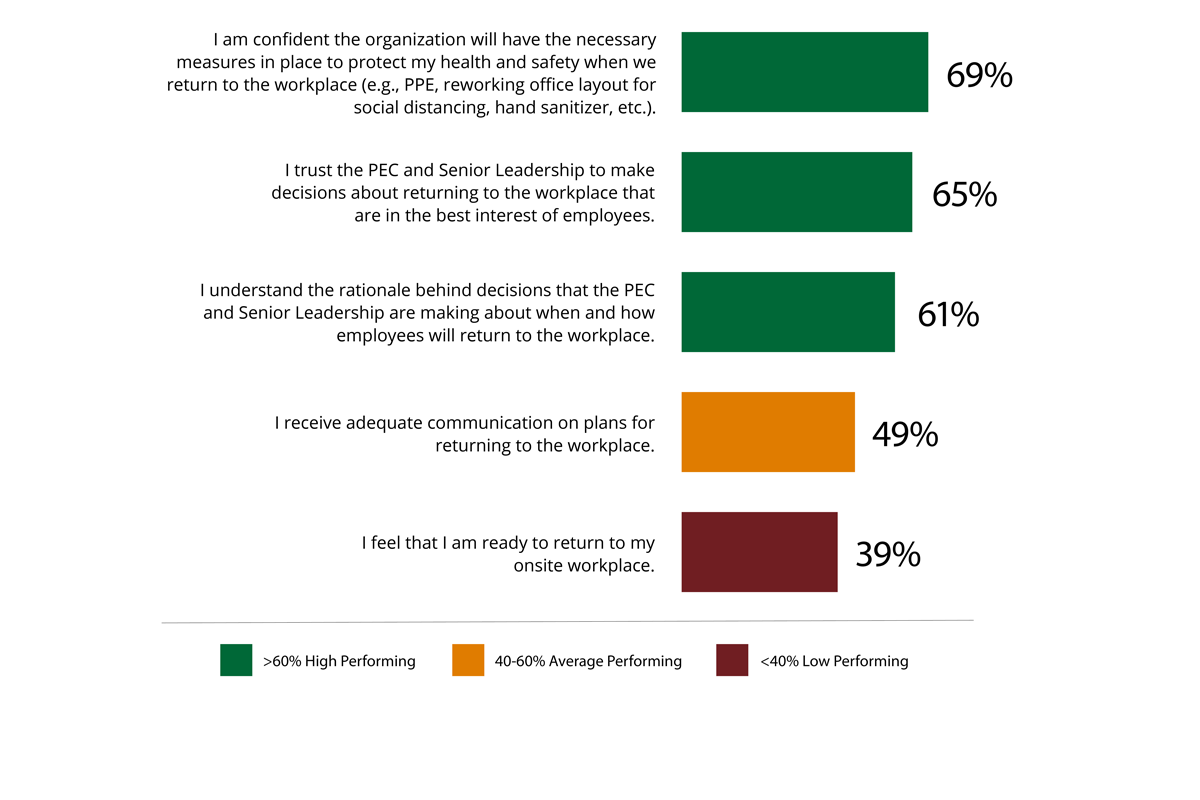 Returning to campus
The survey asked the question:
If your role/circumstances permit, how many days per week would you prefer to work from home or remotely?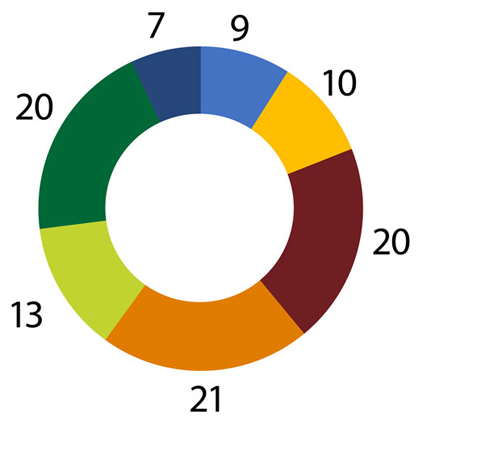 0 days per week = 9%
1 day per week = 10%
2 days per week = 20%
3 days per week = 21%
4 days per week = 13%
5 days per week = 20%
Did not respond = 7%
YOUR THOUGHTS
What support do you need from the organization in order to work comfortably and safely in the workplace? 
This is a summary of some of the common responses collected through the survey
Continue to allow remote work for those who can/flexibility to determine how and where to work
 PPE and reworking of office layouts – some mention of mandatory masks
 Being mindful of rotation strategies as it would be challenging to move equipment around
 Concerns about how to teach effectively remotely/knowing best use of tools/systems
 Understanding of how people will be brought back: safety precautions, cleaning, and handling of high touch surface areas 
 Best and worst-case scenarios for those (researchers) who need to be out in the community
91%
of employees would like flexibility to balance work done on campus and remotely
41%
of employees would prefer to split their time working between campus and remotely in half (2-3d/week)
20%
of employees would like to continue to work remotely full time
YOUR THOUGHTS
What can this organization do to support you right now? 
This is a summary of some of the common responses collected through the survey
Create clear standards about what remote working will look like at the university going forward including who may be able to return or continue to work from home
Provide better supports for faculty and staff who are finding it difficult to manage work/life balance when working remotely including working longer hours
Enhance the available mental health supports (tips, info, webinars, benefits) to help faculty and staff who are feeling isolated
Eliminate monthly parking fees for staff who are working from home
Provide tools/financial support/use of PD funds to support remote work equipment (printers, chairs, ergonomic equip. etc.)
Be more proactive about plans to reopen, and communicate the plan; e.g. How will it work? What measures will be in place?
Provide access to Zoom for online teaching 
Provide more training on online teaching/learning tools
Employee Resources
The survey responses highlighted areas where the university will continue to invest resources to improve the remote workspaces for faculty and staff. Please make sure to utilize the university services available to all employees and have conversations with your direct supervisor if you have questions or need additional support.