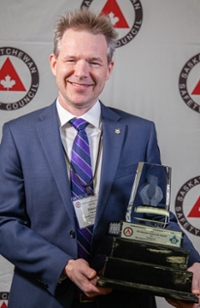 The award, also known as the Ed Amaolo Memorial Award, is jointly given by the Saskatchewan Safety Council and the Canadian Society of Safety Engineering (CSSE) to an individual who has made a significant contribution to the field of safety and injury prevention.
"It feels great to be positively recognized by my professional peers," said Hauser. And, of course, I could not be recognized like this without having worked with, learned from, and be supported by many others in the safety profession equally deserving of such recognition."
Hauser is an alumnus of USask, as well as Saskatchewan Polytechnic, and began working at USask in December 2008. In his current role as safety and compliance coordinator with Safety Resources, provides a variety of support across campus. Hauser helps facilitate local safety committees across campus and assists units develop safety management systems that reflect the type of work they are doing, including safe work procedures, off-campus activity safety plans and children's camp safety plans. He also provides safety training across campus, conducts ergonomic consultations and leads the USask Hearing Loss Prevention Program, while also supervising a team managing fire and life safety compliance.
"I sincerely appreciate my good fortune to pursue my passion of working to continually improve the practice of health and safety at the university, throughout the province and across the country," said Hauser. "This would not happen without the full support of my employer – the University of Saskatchewan."
Hauser is an active member of the Canadian Society of Safety Engineering, and a member of the CSSE Northern Light Chapter Executive. He is also the regional vice-president for the Prairie Region, representing the Manitoba and Saskatchewan chapters on the CSSE National Board of Directors.  Through the CSSE he is also currently on the judging panels for Saskatchewan's Safest Employer award, and for Canada's Safety Employer awards.