Protective Services
Committed to making our campus safe and secure.
Protective Services works closely with the campus community, Saskatoon Police Service and other agencies to maintain a safe campus. We respond to emergencies and provide programs and services. Our officers patrol the campus on foot, bike and in marked patrol vehicles 24 hours a day, 365 days a year
Emergency Assistance
If you or someone you know is in immediate danger:
Saskatoon Police Service 911 or 9-911 (on campus)
Campus Protective Services 306-966-5555
Non-Emergency Assistance
Protective Services
Phone: 306-966-5555 (24 Hours)
Toll Free: 1-833-835-5050
TTY (hearing impaired): 711 (#711 from a wireless phone)

protective.services@usask.ca (for non-emergencies)
Please do not report emergencies via email!
Fax: 306-966-8662
72 Campus Drive
University of Saskatchewan 
Saskatoon Saskatchewan, Canada S7N 5B5
Incident Reporting
Call Protective Services at 306-966-5555 or for non-emergency purposes, use the online Incident/Tip Reporting form (anonymous option available).
Report an Incident/Tip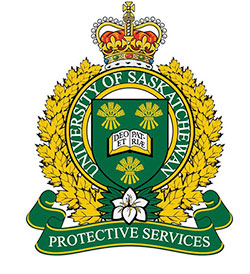 Authority
USask Peace Officers are empowered to enforce the University of Saskatchewan Traffic Regulations, Provincial Alcohol and Gaming Regulations Act and Traffic Safety Act, as well as the impaired driving sections of the Criminal Code of Canada.
Our Mandate
Personal Safety and Protection
Emergency Response
Crime Prevention
Conflict Resolution and Problem Solving
Protection of Insititutional and Personal Assets
To Participate, through partnerships, in the Collegial Process
To Develop and Promote Communication and Education to Enhance Public Awareness and Safety
To Enforce Federal, Provincial Laws, University of Saskatchewan Bylaws and Authorized Policies